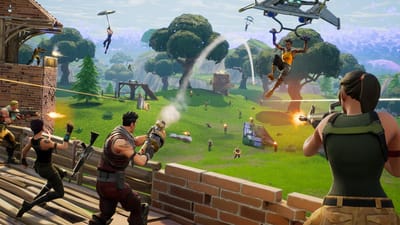 Fortnite Battle Royale Eye of the Storm
Otherwise, the only other mechanic you'll have to contend with in Fortnite Battle Royale is the Eye of the Storm. At the very beginning of the game, a minute timer counts down until a white circle is placed on the map. You always want to aim to be in this white circle, as anyone caught in the blue circle that closes in to the white circle will continually take damage. The white circle is called the Eye of the Storm, and as long as you're inside it, you'll be protected from the damage of the storm (the blue circle).
Fornite Battle Royale Tips and Tricks Guide - Fortnite Mobile Guide
You might be thinking that Fortnite Battle Royale sounds awfully similar to Playerunknown's Battlegrounds, and you honestly wouldn't be wrong in assuming this. But nevertheless, we'll give you some Fortnite Battle Royale
tips and tricks
, in order to make sure you're one of the last players standing no matter what situation you find yourself in.
The first things you should do as soon as you hit the ground are collect any weapons and ammo around you, and demolish anything you can for resources.
You can always build your way out of any situation, as you can use stairs to scale hills and buildings, and walls to provide a barricade against incoming fire.
Bare in mind that with a large staircase that someone has built, you can destroy the entire thing in one go by shooting the very bottom section, causing the rest of it to collapse.
Keep in mind that there is fall damage, and if you shoot a staircase and cause a player to fall from a great height, you can instantly kill them.
Always open treasure chests! They have a higher loot drop ratio than finding items scattered around the environment, so always make sure to crack them open if you stumble across them.
If you see a blue flare on the ground, this indicates a loot box will be dropped their via air shortly. Plan around this, as you could claim the loot for yourself, or use it as bait to lure other players.
The same goes for any loot that opposing players drop when killed. You could collect it for yourself, or you could leave it there and wait for other players to try and claim it.
Always drink shield potions as soon as you have them. There's no point saving them for later, as you can free up a space in your inventory, as well as providing your with a nice boost to withstand powerful attacks from sniper rifles and other weapons.
It's always worth tweaking your aiming sensitivity settings in Fortnite Battle Royale, particularly when weapon recoil is a key factor when firing automatic weapons.